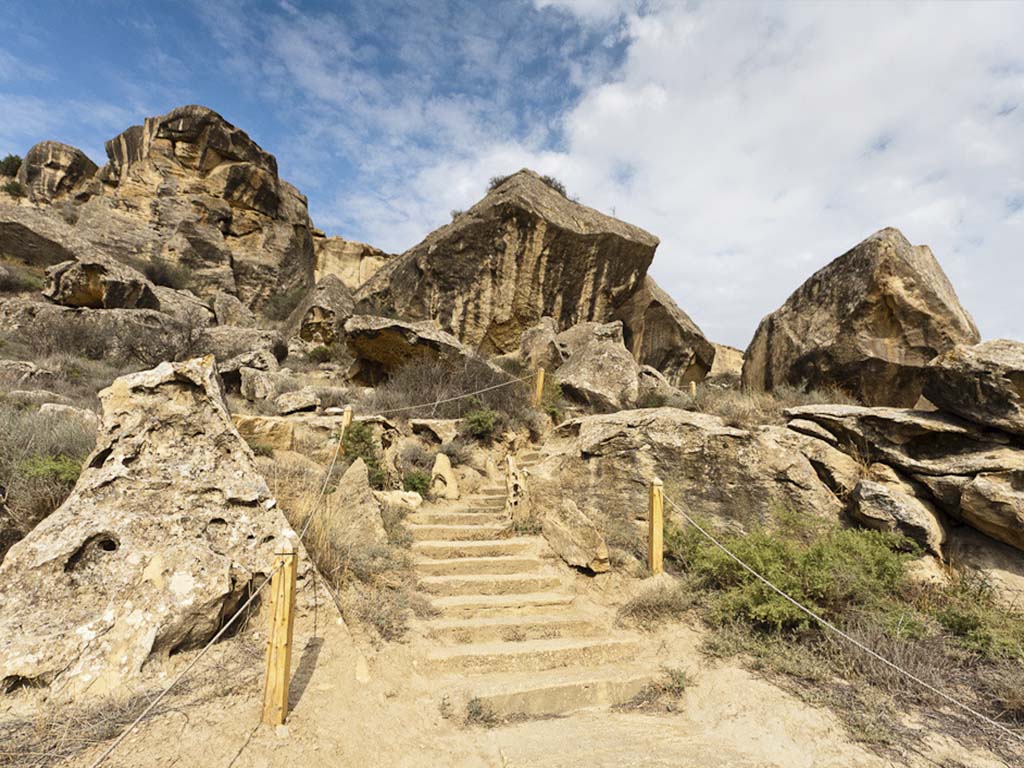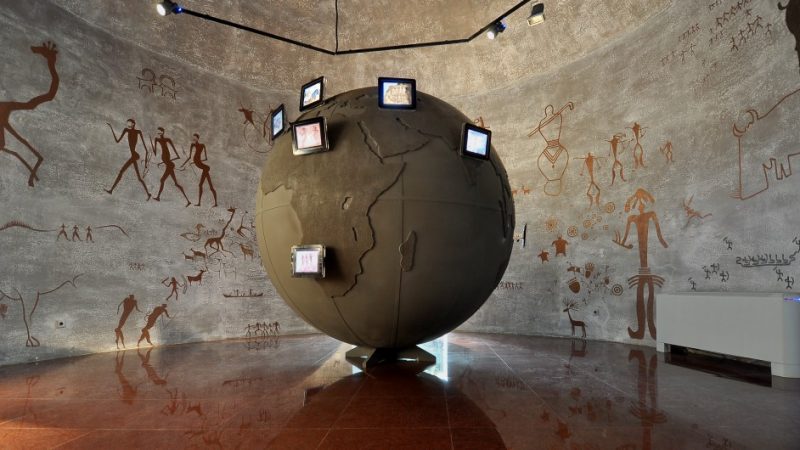 Duration: 3,5 hours

Gobustan or Gobustan State Historical and Artistic Reserve is an archaeological reserve in Azerbaijan,
to the south of Baku, in the Karadag and Absheron regions, which is a plain located between the south-
East slope of the Greater Caucasus Range and the Caspian Sea, part of which is the cultural landscape
of rock carvings, located on the territory of 537 hectares.
Gobustan's monuments are divided into two groups: 1) rock paintings and 2) ancient sites and other objects.
In the mountains of Gobustan, under the names of Boyukdash, Kichikdash, Ginhirdag, Shongardagh and Shikhgaya,
there is evidence of inhabitants of the region of the Stone Age and subsequent periods-rock paintings,human parking,
tombstones, etc. There are also remnants of a large prehistoric cromlech that can be clearly traced.
Figures were found on three sections of a rocky plateau, and the caves, once found there,
traces of settlements and tombs indicate a dense population of this territory between the Upper Paleolithic
and Middle Ages.
In 2007, the cultural landscape of rock carvings of Gobustan was included in the list of monuments
of the World Cultural Heritage of UNESCO.
Here are the largest in the Caucasus mud volcanoes. The main river is Jeyrankechmez. On Mount Boyukdash
there are also springs and wells, gobustan fed by underground waters of limestone deposits
and atmospheric precipitation.
The climate within the reserve is dry and subtropical, with relatively mild winters and hot summers.
Short-term spring and autumn rains are observed, after which the flora and fauna is animated.
Gobustan monuments were created during a very long historical period. According to the variety
of scenes of rock paintings, the presence of monuments of different epochs, compositional and realistic images
on a small territory, Gobustan has no analogues.
In the territory of this "open-air museum-reserve" along with the rock paintings there are preserved
in the original parking lots and settlements, ancient Gobustans, as well as objects of their everyday life.
Life in Gobustan began at the end of the Upper Paleolithic - the beginning of the Mesolithic and
lasted for millennia before the Middle Ages. It can be assumed that the cessation of uninterrupted
life in Gobustan was due to climate change.
Petroglyphs in Gobustan - an amazing visual aid, which demonstrates the stages of human evolution
for 10 thousand years: from the Mesolithic to
the Middle Ages of our era. These rock paintings tell us about the culture, worldview and customs of ancient people.
Today it is a real open-air museum. Every year this stone art gallery is visited by thousands of people
from all over the world.