6 days/5 nights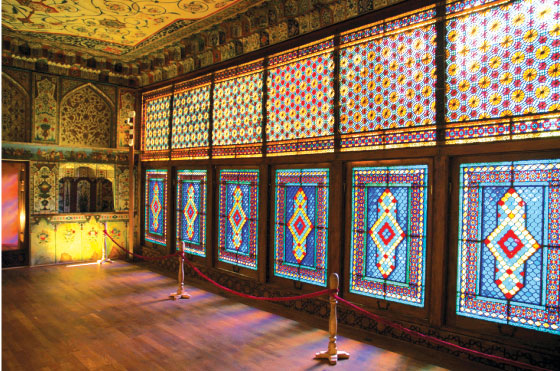 Day 1
Breakfast in hotel
11:00 - 14:00 Sightseeing walking tour in Baku with visiting and viewing of the historical and architectural monuments of the city. You will see a panoramic view of the city and Baku Bay from the Mountain Park, viewing the medieval part of the city "Icheri Sheher" / "Inner City" /, fortress walls, the main gate of the city "Gosha Gala Gapi"/ Pairs Gate/, "Shirvanshakh Palace", the temple tower "Giz Galasi" / "Maiden tower "/, medieval baths, caravanserais, handicraft workshops, carpets and antique shops and other places.
14:00 - 15:00 Lunch at local restaurant (paid by guests)
15:00-18:00 A walk along the main shopping streets and squares of the city: Fountain square, Nizami street, book passage
You will enjoy the boat excursions (1 hour) on the sea in Baku Bay (under favorable windless weather), splendid panoramic view of Baku from the sea, as well as the walking along the seaside boulevard and the central part of the city.
18:00-21:00 Free time, shopping
Return to hotel
Day 2. Baku - Sheki
08:00 Breakfast in hotel, check out
09:00-15:00 Drive along the route Baku-Shamahany via Muganli pass - Ismaily-Gabala-Sheki / about 305km. /
On the way lunch at a local restaurant (included in price)
15:00 Arrival in Sheki, accommodation in the Issam hotel.
16:00-19:00 Sightseeing program in Sheki:
- Panoramic view of Sheki city from the mountain
- Survey of fortifications, caravanserai in the Old city (XVII-XIX c.c.)
- Visiting History Museum (entrance)
- Visiting "Sheki Khan's palace"-XVIII c. under UNESCO protection (entrance)
- Survey of the exposition of the National Applied Arts museum in the old round Christian temple (IX-XVI c.) and acquaintance with works of handicraftsmen on manufacturing
stained- glass windows -"shebaka" (network) in their workshops.
20:00-21:00 Dinner at the restaurant of Hotel "Yuxari Karvansaray"
Return to hotel
Day 3. Sheki
Breakfast in hotel
10:00-13:00 Travel to Kish settlement by bus (15 min.) Visit to the church and old Albanian castle (I-IX c.)
13:00-15:00 On the way back to Seki lunch at a local restaurant (included in price)
Free time for buying souvenirs
Lunch at a local restaurant in the Sheki (included in price)
Overnight at the hotel
Day 4. Sheki - Baku
Breakfast in hotel, check out.
Moving along the route-Gabala-Sheki-Ismailly - Lagij (panoramic view of Greater Caucasus Mountains) - Canyon of river Girdimanchay- the mountain village of craftsmen Lagij.
13:00-14:00 Lunch at a local restaurant (included in price)
14:00-16:00 Acquaintance with the architectural monuments of the Historical-Ethnographic reserve "Lahij"/IV-XIX c./ Architectural monuments, handicrafts and manufacture of carpets, workshops and benches of handicraftsmen: braziers, smiths, chasers, metal engravers, ancient mosques, baths, and also original architecture of streets and apartment houses of the ancient mountain settlement.
Return to Baku
20:00-21:00 Sightseeing night excursion by cars "Night lights of Baku". Itinerary - "Azadlig square" - Academy of Music - Palace named after Heydar Aliyev, R.Beybutov street, Bakihanov street, Inshaatchilar Avenue and Square named after Huseyin Javid, stopping near the monument of Nariman Narimanov to view panorama of evening Baku, Istiglaliyat street, Niyazi Street, Neftchilar (Oil Workers) avenue.
Return to hotel
Accommodation in hotel
Day 5. Baku - Absheron
Breakfast in hotel, check out
11:00-13:00 Visiting the oriental bazaar to purchase sweets, spices, etc.
13:00-16:00 Further sightseeing tour in Absheron peninsula:
- observe natural gas outlets (Yanar Dag – "Burning Mountain")
- Atashgah Fire-Worshippers' Temple (XVII c.) is located in Surakhany village ( 25 km from Baku). It is built on the site of the "eternal inextinguishable flames". Tthese structures were built one after another
for a century and a half, since the late XVIIth to the mid - XIXth c.c chapel, monastic cells, a small caravanserai, a central rotunda and other buildings.
Transfer to airport
Price includes:
Breakfasts
3 lunches и 2 dinners
Transport service
Guide service
Entrance fees
Bottled water (0,5l.) during tour
Accommodations